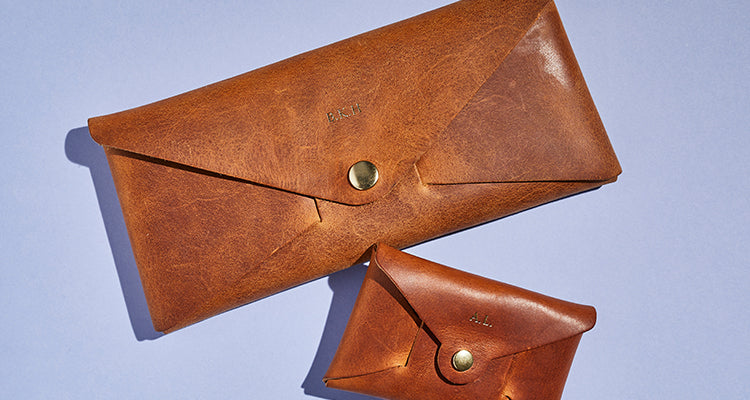 Let's start with three facts:
Sbri make purses.
Sbri make handcrafted personalised leather purses.
Sbri make so many cool purses that it's almost impossible to choose your favourite. 
We get it, the struggle is real. Our products are designed to be a combination of fun and functional – to add a little luxury to your everyday essentials – so whether you're looking for the best purse to travel with, an ideal wallet for small bags or what to pack on a night out, we've got something that will tick all your boxes. In this post we're going to run through our three main purse styles, the features of each and hopefully help you decide which one is your ideal Sbri purse (of course, a suitable answer would be "all three"). Let's go!
Personalised Card + Coin Purses – Best for going out
Personalised Card + Coin Purse

Comfortably holds five cards, coins and notes

Will fit up to 10 cards if that's all you're carrying

Measures 9.5 x 7 x 1.5cm

Fits in the palm of your hand and your smallest clutch bag

Available in our biggest range of prints and patterns
Our personalised leather coin purses are, and always will be, our number one. They're our bestseller and the first product we launched in the Sbri range, designed for the essentials. They hold your coins, obviously, but more too – hence we renamed them Card + Coin Purses, because you can fit cards aplenty. If you like to carry a combo, this purse will hold your five most important cards plus a stash of coins and a note or two, but if you're more of a cashless customer you could stack up ten cards inside. Sbri card and coin purses are perfect for tucking in your tiny handbag on a night out or for space saving in a day trip rucksack. If you want to know even more about what fits in a coin purse, there's an entire blog post here (you're welcome).
Our leather coin purses have the most colour, print and pattern choices of all Sbri products, plus the option to add a secret message inside makes them the perfect gift for someone special. That someone can be you. 
Shop Card + Coin Purses, from £25.
Personalised Card Holders – Best for travelling light
Personalised Card Holder
Three card slots, a large top pockets and zip compartment on the back
Easily holds up to 10 cards with room for a few coins
Measures 10.5 x 8 x 0.5cm
Slimline, easily tucks in small spaces and back pockets
For lovers of colour – fun combos of all our leathers
The first word that comes to mind when thinking about our Personalised Leather Card Holders is slimline – all the cards without the bulk so they're perfect for travelling light, wherever you happen to be travelling these days. Our card holders have three staggered slots on the front and you can easily fit two cards in each, plus a large open pocket at the top for stashing even more cards (why do we all have so many cards these days!?) or notes, receipts, shopping lists, lottery tickets – the list goes on. Unsurprisingly they're best for those who favour the card life but the little zip pocket on the back gives you space for a couple of coins too. 
Our card holders are perfect for lovers of colour – they're made from multiple layers of different leathers so we've had fun playing with all your fave colourful combos.
Personalised Envelope Purses – Best for the big shop
Personalised Envelope Purse
Four card slots, two large internal section and inside zip pocket
Will hold 8 cards, all your notes, coins, receipts, random odds and ends
Measures 20 x 10 x 1.5cm
Our most classic/traditional purse design with the Sbri treatment, obvs 
Let's face it, the minimalist life isn't for everyone – our Personalised Envelope Purses are perfect for your hoarding needs. We call them our coin purses' sensible big sister – she's a grown up purse but still just as fun. The envelope purse feels good in your hand and has room for it all. Complete with all the features you need in a "big purse" – two large sections, four card slots, an inside pocket and secure fastening to keep your treasures safe.
The Envelope Leather Purse is the most traditional style in our range but it still gets the same Sbri treatment – a classic functional wallet made in fun colours and prints to add extra joy to the everyday.
Shop Envelope Purses, from £80.
 All our purses, wallets and card holders are made in the same studio from the same materials, so whichever you choose, luxury quality is guaranteed. Whether you're all about the card life, looking for something small or prefer a wallet that holds it all, you can find the perfect purse at Sbri. Handmade personalised leather purses made from sustainably sourced leather with an extra helping of fun.