We're Finalists in the Etsy Design Awards 2021!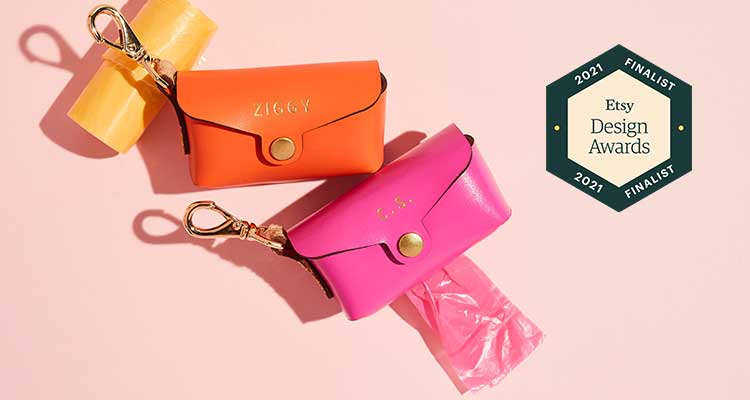 Something exciting has happened at Sbri…we've been selected as finalists(!!!) in the 2021 Etsy Design Awards, aka The Etsies. Cooler than the Oscars any day of the week – Nobel Prize, eat your heart out. To say we are thrilled would be the understatement to beat all understatements.
Back in June we entered our Personalised Leather Dog Poop Bag Holder in the Pets Category of the Etsy Design Awards and then, naturally, didn't think much more about it, so we were blown away when we got the email to say we had a place in the Top 100 (when we say blown away we mean jumping-in-the-air-making-high-pitched-noises-doing-a-celebration-dance blown away). You might have read or heard about us in the Salisbury Journal, the New Milton Advertiser and Lymington Times or on Forest FM (yeah, we're kinda famous now).
The Etsy Design Awards are a celebration of the best of Etsy from around the globe, with thousands of incredible products being entered in the ten award categories: Art, Bags and Accessories, Clothing and Shoes, Furniture, Home and Living, Jewellery, Kids, Pets, Weddings and Celebrations, and Vintage. From all the products entered the judges have selected ten finalist from each category to make up the Top 100 and the four overall prizes will be awarded in August. You can take a look at all the fantastic finalists by visiting: www.etsy.com/etsydesignawards.
So why the Poop Bag Holders? Well we have to admit, when we first launched our personalised luxury leather accessories brand in 2020 we never envisaged ourselves to be here, quite literally, chatting sh*t. But sometimes products will surprise you and the reaction to our pet range has been better than we could have ever imagined, so thank you so very much for that. When we were deciding which product to enter in the Etsy Design Awards we knew we needed to pick something which was innovative, creative and would stand out from the crowd…not to blow our own trumpet (okay, maybe a little bit) but the Poop Bag Holders seemed to tick all the boxes, there's nothing else quite like it on Etsy.
The aim with Sbri has always been to create beautiful personalised accessories that add a little bit of luxury to the everyday essentials – fun and functional pieces that bring a moment of joy every time you take out your keys, reach for your purse or pack your night out bag. When you're a dog owner there's nothing more everyday (or indeed essential) than the daily dog walks so we figured, why not apply the same Sbri logic to products for your pets? If you're going to do something every day you may as well do it in style, right?
Our Personalised Leather Dog Poop Bag Holders are practical, personalised and excellent quality – just what our customers have come to expect from Sbri. They're made from luxurious sustainably sourced veg-tanned leather, just like the rest of our range, and are available in fun colours and prints to match the Sbri collection. They hold a roll of your all-important poo bags with a dispenser slot underneath for easy access and have a solid brass lobster clasp attachment so you can easily clip them to your dog lead, bag or belt loop, leaving you with more room in your coat pockets for other fun things instead. And they're personalised (of course), making them the perfect gift for dog lovers, if we do say so ourselves.
The inspiration for the pet range came from you, our customers. We're always looking for ways to help you add more joy to your day and when we asked on Instagram for product suggestions a pet range was top of the list. We now have our Poop Bag Holders, Treat Pouches, Luxury Leather Dog Collars and Personalised ID Tags for dogs of all shapes and sizes, and we're hoping to add more options soon…watch this space. If you've ordered a Sbri dog product, suggested ideas, shared feedback, entered our #TopOfThePups competition or sent us a dog photo (our fave kind of email) then you've helped make this range happen and we love ya for it.
And now we have a favour to ask… 
You can help us win the Klarna People's Pick Award by heading to https://www.etsy.com/featured/etsydesignawards-uk and favouriting our Poop Bag Holders – all you need to do is hit that heart button (you'll need an Etsy account too but come on, who doesn't have one in 2021?). Voting closes on Tuesday 20th July so there's not too long to go. So tell your friend, you mum, your friend's mum to vote for Sbri and help us win an Etsy Design Awards and we promise we'll shout you out in our acceptance speech…do you think we're getting ahead of ourselves?
Thank you, thank you and thank you again – we'll report back in August when the winners have been announced.