Meet Our Big Sister, Create Gift Love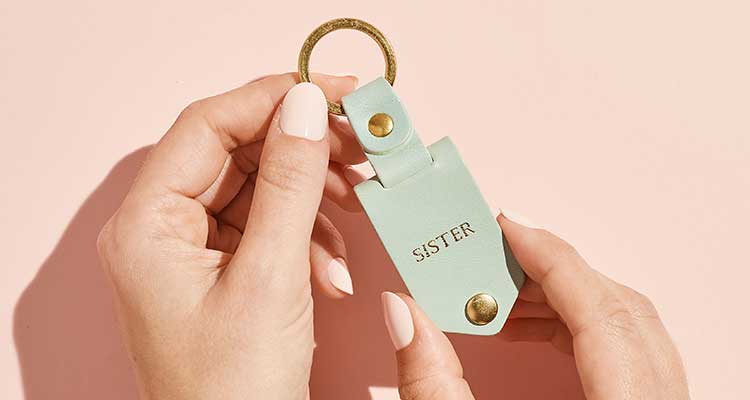 If you're a long time customer or follower you might know that Sbri is not an only child – that is to say, we have a big sister company. Before Sbri there was (and still very much is!) Create Gift Love and we thought it was time you got reintroduced, or perhaps made acquaintances for the first time.
Create Gift Love is the home of handcrafted personalised keepsake gifts to celebrate all of life's special moments, big and small: a birthday, a wedding day, a moving day, a Tuesday. We design and make personalised keyrings, coasters, photo gifts and homeware, all handmade in our New Forest workshop from sustainably sourced wood and leather. And when we say 'we', that means us – the same team behind Sbri, in the same studio, with the same materials. Just like sisters that live under the same roof, there are a lot of similarities and shared ideas between Sbri and Create Gift Love but each have own interests and unique qualities too (plus there's less sisterly bickering).
Create Gift Love is all about marking and remembering your milestones and memories, capturing those sweet moments and showing your loved ones how bloomin' fab they are. There are gifts for all the family (yes, even your difficult auntie) and we do a lot of work with photographs too, something that hasn't made its way into the Sbri product range…yet.
So where did Create Gift Love come from, you might wonder, and how did we end up here? It all started back in December 2011 when our founder Emily (you know Emily – namesake of our leopard print collection!) decided to make some wooden cufflinks for family Christmas presents. They went down a treat and she soon had friends and family asking her to make more wooden gifts, which led to her selling her first few pieces online. By the next Christmas, Em had given up her full-time job as a Pharmacist and was busy with her husband Tony and lots of other helping hands fulfilling more personalised festive orders than their garden shed could hold! Fast forward to today and Emily and Tony now have a purpose built workshop and studio space and a dedicated team of ten.
And what about Sbri? Well, a few years into the business, we started experimenting with leather to complement our wooden gifts – we love to combine materials and the two work together so beautifully. It started with leather keyrings, then leather purses, then wallets and some travel bits too, and before we knew it we had a whole collection of leather accessories – and that's where Sbri was born. We wanted the leather range to have its own space (back to the sister analogy – they got too big to be sharing a bedroom) so we decided to separate out the two brands, and here we are! Create Gift Love is the place to be for personalised keepsakes, and Sbri is the home of fun leather pieces.­­
Like we said, there are definitely similarities between the Sbri and Create Gift Love product ranges –keyrings, bookmarks, homeware and other personalised goodies. CGL features a lot more wooden products but there's plenty of lovely leather too. Basically, if you like Sbri, we think you'll love Create Gift Love. Here are three product picks to give you an idea of what our big sis does…
Personalised Leather Case Photo Keyring
This little keyring is our number one bestseller and it's a winner at every occasion, for any recipient. A personalised leather case with your fave photo hidden inside and a secret message engraved on the back – it works for a new daddy with a baby photo or for your BFF with your fave festi-pic so it's an easy go-to gift, personalised to the max. Our photo keyring is available in five leather colours plus a bit of leopard print, obvs.
Photo Hexagon Wall Art Set
The photo hexagons are a great treat for a loved one or for your own home-décor. A set of five wooden hexagon shapes printed with your photographs to display on the wall – all the good times for all to see. You can keep adding to the set and build a whole gallery wall, an easy gift to add to year after year.
Personalised Photo Bookmarks
Love our Sbri bookmarks? These ones might be up your street too – the same size and style but printed with your photographs and a short and sweet message. Grandad might not be into Sbri's leopard print bookmark but we think he'll love one with a photo of you instead. The new photo booth inspired strip bookmark is our current fave.
So there's a bit of family history for you (we also have a brother brand, Man & Bear, but we'll tell that story another day). Head on over to Create Gift Love for a browse of the full range then come back and thank us later, we're sure you'll find something up your street.