Q&A with Lauren Forecast, brand manager at Dorset Tea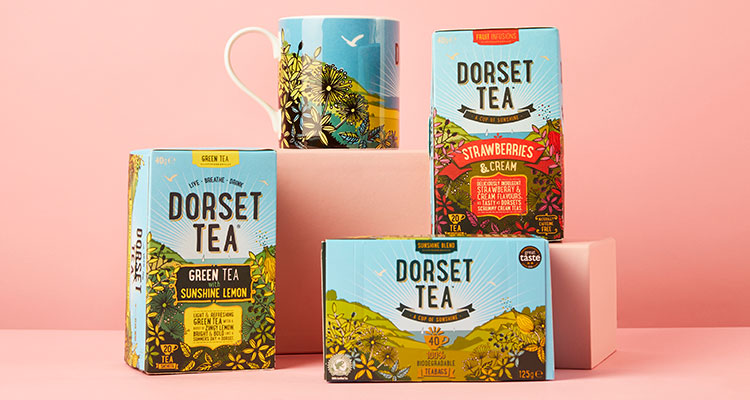 This month at Sbri we've been working on something pretty cool. We've picked out some gems from our favourite local small businesses and artists to create the ultimate Dorset gift bundle, and we're giving it all away to one of you.
Celebrating the best of the south coast, the bundle includes your caffeine fix, reading materials, sweet snacks and some gorgeous accessories for yourself and your home. Being founded in Dorset, our team have a life-long love affair with this patch of the south coast and we wanted to introduce you to some of our local faves in time for the festive season -- so even if you don't win, you might just come across a new small business to fall in love with.
In this series of blog posts we'll be introducing you to all the brands in our Sbri & Friends giveaway so you can get to know them a little better.
---
Dorset Tea
launched in 2009 and have been making delicious teas inspired by the beautiful county of Dorset ever since. They describe their teas as "cups of sunshine" and their collection includes premium black tea, fruit, herbal and green teas, all packed in biodegradable tea bags.
We caught up with Lauren, brand manager at Dorset Tea, to find out more about their story.
What's the story behind your Dorset brand?
In 1934, our founder Keith Spicer, started blending teas in his Bournemouth kitchen. Equipped with an old butcher's bike he set out to deliver his creations to businesses around Dorset. 75 years later, in 2009, Dorset Tea was created to celebrate Keith's work and the natural beauty and sunshine of Dorset! Our tea tastes as good as the sunshine makes us feel! That's why we call it a 'cup of sunshine'.  
What is your most iconic product and what makes it special?
It's got to be our award-winning Sunshine Blend. It's a premium black tea blend that has been carefully crafted by our Master Blenders and is inspired by long, sunny days in Dorset. This golden cuppa is the perfect tea to drink all day, every day.
Has the local area inspired your product?
All our products are inspired by the natural beauty of Dorset. Think of the warmth of the sun's rays in our Sunshine Blend. Our premium loose leaf is designed to be as luxurious as long lazy summer's days on Dorset's sandy beaches. Our fruit and herbal range pay homage to the wealth of fruits and flavours found along Dorset's coast and countryside.
What's your favourite secret spot in Dorset to visit?
It's got to be South Beach in Studland. Calm waters, golden sands and beautiful views across to Old Harry Rocks, Bournemouth and the Isle Of Wight. Plus it's slightly less visited than the other stretches of beach in the bay!
Has your product brand made a positive impact on people or the planet?
Respecting our natural environment is an integral part of our brand. Our tea bags are made from biodegradable materials and our packaging is recyclable. We have been partnered with the Marine Conservation since 2021 and each year we donate to their education projects – this year as well as a community beach clean we are funding local schools to take part in their Ocean Friendly Schools Award scheme. This year we also partnered with the Jurassic Coast Trust to help support them in the protection of England's only World Heritage Site.
Last year we established our Communi-Tea initiative. We partner with local groups and charities who come together to connect for shared causes. Since its start we have helped equip Grounded Community's outdoor kitchen, establish a Tea Club for Age UK, fund volunteer training for Home Start Wessex and provide resources for Poole Hospital's dementia ward.
---
Want to win three varieties of Dorset Tea, a Dorset Tea mug plus a hamper packed with more of Dorset's best small business goodies? Enter our competition here.