Q&A with artist and illustrator, Lauren Marina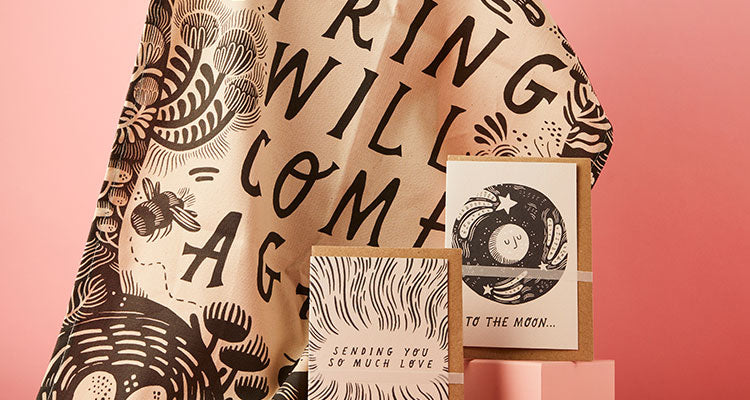 This month at Sbri we've been working on something pretty cool. We've picked out some gems from our favourite local small businesses and artists to create the ultimate Dorset gift bundle, and we're giving it all away to one of you.
Celebrating the best of the south coast, the bundle includes your caffeine fix, reading materials, sweet snacks and some gorgeous accessories for yourself and your home. Being founded in Dorset, our team have a life-long love affair with this patch of the south coast and we wanted to introduce you to some of our local faves in time for the festive season -- so even if you don't win, you might just come across a new small business to fall in love with.
In this series of blog posts we'll be introducing you to all the brands in our Sbri & Friends giveaway so you can get to know them a little better.
---
Lauren Marina
is a freelance artist, illustrator and pattern designer based in Poole, Dorset, and describes her work as being inspired by nature, folklore and feelings. Her shop includes prints, cards and homeware, all in her signature charcoal and beige colour palette, and you can find Lauren popping up at local markets across the south.
We caught up with Lauren to find out more about her story and inspirations.
What's the story behind your Dorset brand?
I work as a commercial illustrator but also run my own self-named brand where I design a range of home and gift items. All my products are illustrated in my identifiable hand-drawn monochrome. I aim to evoke a sense of calm and tranquillity with my drawings. As a solo business owner I design, pick, pack and post all orders myself and appreciate every single one!
What is your most iconic product and what makes it special?
My 'Spring Will Come Again' tea towel has resonated with many customers. Of course, it is a comment on the turning of seasons, but moreover, it is a mental health message. A gentle reminder that even on our darkest days light, hope, and growth will come again. 
Has the local area inspired your product?
I spend a lot of time walking and swimming in our wonderful natural surroundings. I think the landscape here has inspired my work, often in clear and obvious ways like my map of the Dorset coastline, but also in more subtle ways. It's easy to feel moved by nature here and that often translates into my art. 
What's your favourite secret spot in Dorset to visit?
It's not a secret, but I love RSPB Arne. I spend hours with my binoculars in the hides there watching the amazing diversity of birds that the area attracts. The place has a very soothing energy on my soul and I try to visit regularly. 
Has your product brand made a positive impact on people or the planet?
I hope that my products and my other creative outputs such as my poetry and Gentle Drawing mindfulness workshops offer folks a moment of calm. I hope that my work encourages the cultivation of a sense of joy and wonder about the natural world around us. 
---
Want to win Lauren's tea towel, greetings cards, plus a hamper packed with more of Dorset's best small business goodies? Enter our competition here.