Q&A with Andy & Claire, founders of Chococo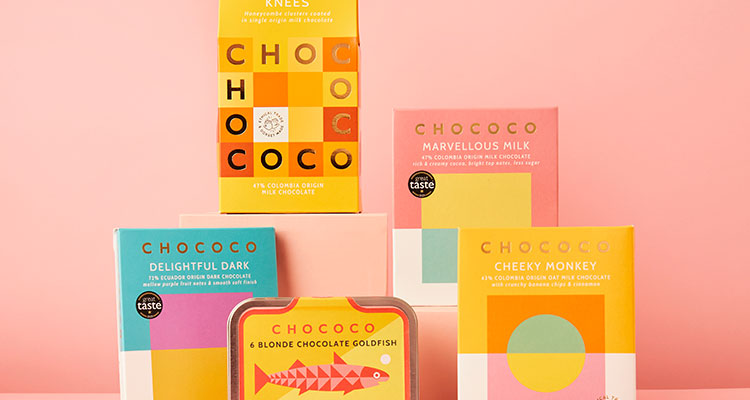 This month at Sbri we've been working on something pretty cool. We've picked out some gems from our favourite local small businesses and artists to create the ultimate Dorset gift bundle, and we're giving it all away to one of you.
Celebrating the best of the south coast, the bundle includes your caffeine fix, reading materials, sweet snacks and some gorgeous accessories for yourself and your home. Being founded in Dorset, our team have a life-long love affair with this patch of the south coast and we wanted to introduce you to some of our local faves in time for the festive season -- so even if you don't win, you might just come across a new small business to fall in love with.
In this series of blog posts we'll be introducing you to all the brands in our Sbri & Friends giveaway so you can get to know them a little better.
---
Chococo
are an independent artisan chocolate brand and have been making delicious handmade chocolate on Dorset's Jurassic Coast since 2002. They use locally sourced seasonal ingredients including local fresh cream, blended with fine origin chocolate and no additives or preservatives, plus they're proudly plastic-free.
We caught up with Chococo founders Andy and Claire to find out more about their story.
What's the story behind your Dorset brand?
Born in Dorset in 2002, we are a proudly independent artisan chocolate brand single minded in our mission to tantalise the taste buds of our customers with the most deliciously uplifting fine chocolate experience in the UK. Our handcrafted treats are made with the finest, ethical chocolate and local, seasonal ingredients.
What is your most iconic product and what makes it special?
When most people think of Chococo, they think of our handcrafted filled chocolates. From award-winning truffles and caramels, to seasonal limited edition flavours, every chocolate is handmade, hand decorated, and hand packed in our 100% plastic-free packaging – just as they have been since we started in Swanage in 2002.
Has the local area inspired your product?
Dorset has a wonderful array of produce, which feature in our filled chocolates. From our Dorset Sea Salt Caramel Chocolate Gems and award-winning brownies, to local jams for our fruity fillings, and Purbeck honey in our handcrafted honeycomb, you can always enjoy a taste of Dorset in our chocolates.
What's your favourite secret spot in Dorset to visit?
Chapman's Pool near Swanage is a favourite. A beautiful walk from Worth Matravers to Purbeck reveals this secluded, stunning bay.
Has your product or brand made a positive impact on people or the planet?
All of our packaging is 100% plastic-free, and our chocolate boxes have been since 2002! We also have a number of charity chocolates that help incredible causes around the world, including Chocolate Orangutans for Orangutan SOS in Sumatra, Chocolate Fish & Chips which help fundraise for seagrass planting, and Chocolate Turtles for the Ocean Giants Programme.
---
Want to a selection of FIVE Chococo chocolates plus a hamper packed with more of Dorset's best small business goodies? Enter our competition here.