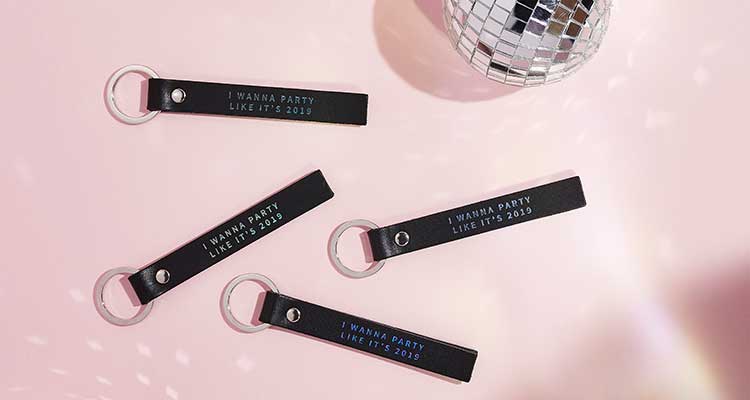 Last week marked one year since the launch of Sbri and the first ever order placed on our website (a "Piper" Coin Purse, in case you were wondering, an excellent choice). As you may know, our personalised leather accessories started off as part of our sister website, Create Gift Love, but at the start of February 2020 we launched their new home here, Sbri – and what a year it's been since!
When we first launched Sbri we planned to spend 2020 making leather pieces to go with you on nights out, festivals, holidays and beyond, but you already know the story – that didn't quite happen. Instead you've kept us busy making purses for you to show off at the supermarket and personalised leather pouches to hold your face coverings and hand gel. We always said we'd make accessories to bring joy to the everyday essentials, we just didn't know what those essentials would end up being!
Just a month into Sbri we pivoted all our usual plans. Our marketing team of Carla and George (the faces behind the website) starting working from home, Emily and Tony became part-time company directors, part-time primary school teachers, and the rest of our small team kept things in the studio ticking along, making and posting all your orders. We're lucky enough to have the space to work safely and stay open meaning we've always been here to tend to your online shopping habits (what else has there been to do, after all?!)
But amidst all the chaos we've had a cracking first year. Like so many of you, we've had the – err – unique experience of a birthday celebrated in lockdown, so we thought we'd take the opportunity to look back on our first year and round up some of the highlights.
Designing and making
We've loved working on new product designs this year as well as adding to our existing ranges. Our leather card + coin purses are still number one customer favourites so it's always fun introduce a new style to the gang. Our leopard print "Emily" always tops the Sbri charts (no surprise, leopard is our first and everlasting love) and we've loved seeing your responses to the newbies too – our lilac leather launch in the summer was a particular fave. 
And we couldn't talk product launches without mentioning bags. Way before Sbri was even a glimmer of idea we've always wanted to make leather handbags, and back in September 2020 it finally happened. We've got big ideas for more bags this year too, the Cross Body range is only the beginning. 
Giving back 
With the support of your orders we've been able to donate to some wonderful charities this year by launching our 1% scheme. This is something we probably don't mention enough – did you know that 1% of all our revenue goes to charity? Well you do now. Every quarter we nominate a charity close to our heart and at the end of the three-month period they receive 1% of our total revenue (not just profit, but 1% of every penny spent on our website).
Since July last year we've supported BCHA, an organisation local to us who deliver a vital refuge service for victims of domestic abuse, and The Girls Network, a fantastic organisation which supports and inspires girls across the country through their 1:1 mentoring scheme. Every order you place helps us give and we're super proud to be able to support such important work. 
As seen in…
Did you hear that we're famous now? Being on TV counts as being famous, right? Our "Luna" purse is a total celebrity. Well, maybe not quite, but she was featured in the Etsy Christmas TV ad last year so that's closer to stardom then we've ever been. (Yes you can have her autograph). 
We've also been featured on The Drop, a fantastic boutique run by the iconic Stylist Magazine which curates weekly edits of the best bits from small businesses. Stylist is one of our favourite mags so it was such a joy to be included. Hello, if you found us through them!
Our customers
The best thing to come out of 2020 for us was reaching so many new customers and welcoming back old ones too. Even though we've never met, we feel like we know our regulars. We love spotting your names pop up again and seeing you build your Sbri collections, or coming back to treat friends after you've loved one of our pieces yourself. If you've ordered, shared, reviewed, liked, browsed or just scrolled our Instagram feed this year – thank you! It means a whole lot to us. 
Launching a new brand at the start of a global pandemic could have turned out very differently, but we're moving in the right direction. Here's to another year of Sbri, and fingers crossed by our second birthday a real party will be in order.