Five Books to Read This Spring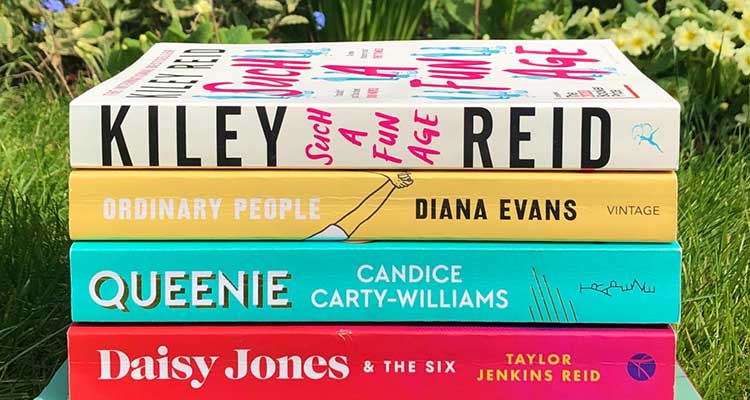 We love to chat books at Sbri – we're always recommending recent reads to one another and we even make bookmarks now – handmade from our sustainably sourced leather and personalised, of course, to give you even more reasons to dive for your paperback. 
With spring finally sprung and brighter days ahead, now seemed like a great time to share some of our favourite books from the last year to get you page turning in the sunshine. Here are five books you need to read this spring, as recommended by Team Sbri.
'Such a Fun Age' by Kiley Reid
You've probably seen this book all over Instagram (it's an international bestseller, after all) but if you've been doubting whether to pick it up, let us convince you. You won't regret it.
Such a Fun Age tells the story of Emira, a young Black woman who is accused of kidnapping the white child she is babysitting, and how this event impacts her and her relationships; both professionally, personally, and a messy mix between the two.
This is a book about race, class, privilege and friendship in its many forms. It's thought provoking, uncomfortable at times, and impactful for sure, but while tackling big topics it still manages to be funny – really funny.
Such a Fun Age is Kiley Reid's debut novel (woah) and we're super excited to see what she does next. It was also longlisted for the 2020 Booker Prize sooo don't just take our word for it.
'Ghosts' by Dolly Alderton
We're big fans of Dolly Alderton in Sbri Studio – devoted listeners of The High Low (still heartbroken it ended) and well-versed in her 2018 memoir, Everything I Know About Love, so her fiction debut was top of our to-read list last year. 
Nina is in her early thirties and enters the world of online dating for the first time, while also dealing with friends moving on, her dad's battle with dementia and a slightly strange downstairs neighbour. Ghosts is a story about friendships, family, love and ageing, about people changing and growing in a multitude of ways…and it's also about being ghosted (no, that's not a spoiler – it's literally in the title).
Ghosts is funny, wise, moving and relatable, and we think you'll gobble it up in just a few sunny afternoons.
 'Daisy Jones & The Six' by Taylor Jenkins Reid
This book is so much fun – that's the best way to describe it. It's unlike anything we've read before because of its creative storytelling format, and we devoured it (if you know of anything similar then please let us know). 
Daisy Jones & The Six is the (fictional) account of the (fictional) iconic 70s rock band of the same name, who we wish weren't fictional at all. It's the story of their rise and fall, told by the band and the people who knew them in talking heads-style interview snippets.
Reading this book is really immersive, you feel like you're right there in a Californian summer or at a concert venue (who else could do with that right now?) and you'll wish you could hear the (fictional) soundtrack for real. 
*this book is fictional, did we mention? 
'Queenie' by Candice Carty-Williams
After reading this novel, we just wanted Queenie to be our best friend. Is that too much to ask?
Queenie is a young Black woman navigating millennial life as a journalist in London, working her way through break ups, career quandaries, dating, friendships and complicated family dynamics. The story tackles race, mental health, trauma and relationships with painful honesty while still making you laugh out loud on (nearly) every page.
Queenie is a novel about identity, family and all the jumbled aspects of life that make us who we are. You follow Queenie through the highs and lows, watching as she makes one questionable decision after another, rooting for her all the way through.
'Ordinary People' by Diana Evans
Ordinary People is a beautifully written, lyrical story following the intertwining lives of two couples, set in London at the time of Obama's election. It's a novel told through multiple voices exploring identity, parenthood, grief and love.
This book is slower paced than our other recommendations but it's just as easy to get lost in. Like the title suggests, it's about the lives of very ordinary people*, dealing with ordinary things – an observant study of convincing characters, with plenty of John Legend references woven in. We loved it.
*Not to be confused with Normal People, although you should definitely read that too.