Find Your Dream Christmas Gift: Introducing the Sbri Gift Finder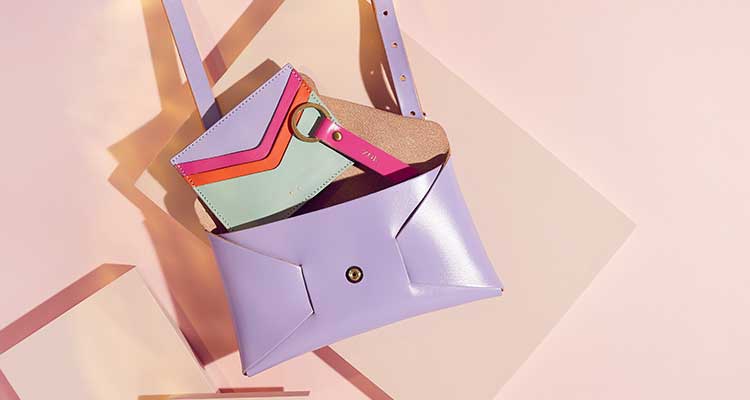 We don't want to say in too loudly, but it's definitely *that* time of year again…"that" being Christmas, obviously. We see Sbri leather accessories as the perfect little "to me, from me" gift for whenever you need to #treatyourself, but as well as providing personal pick-me-ups, we love to help you spread the joy of Sbri around and share it with the people you love too.
All throughout the year we can't help snooping at your orders, guessing what the occasion is and who the gift is going to. We love to see what you're treating your Bride Squad to and getting to know what our customers' go-to presents are (some of you have been buying coin purses for every birthday in your calendar this year and we are here for it). We can always find cause for celebration and an excuse for a party but let's be honest, Christmas time is when the gifting pressure gets real.
If you're anything like us, you want to put real thought into your gift shopping and find Christmas presents that are truly catered to the recipient, something that they actually want, that screams effort (and definitely doesn't look like it was found last minute at the petrol station). Having said that, you want to get your Christmas shopping done quickly and ideally in one hit so that the gift buying saga isn't dragged out over weeks and weeks, and you can get on with enjoying December stress-free. What you need is a one-stop-gift-shop: enter Sbri. Hello, that's us by the way.
We can't perform miracles but we can cater to pretty much all the gals on your gift shopping list. Gifts for awkward cousins, gifts for the mum who has everything, gifts for the friend who deserves something extra special this year. The beauty of Sbri is that your options are (almost) unlimited, with a huge choice of leather colours and prints options across our product ranges, from classic colour palettes to bold statements, plus personalised elements to make each gift completely theirs. Having options for everyone is obviously a bonus but you can almost be spoilt for choice. Wondering where to begin? That's where our new Gift Finder comes in!
Our Gift Finder is a new feature on site for Christmas and is designed to help you narrow down all our lovely personalised accessories and help you find the perfect gift for whoever you're shopping for. We have organised all our products into nine different personas based on taste, lifestyle and interests and we reckon we've pretty much covered all bases. We decided to sort our products by taste and personality instead of by recipient, because we're not here for stereotypes. Sure, some nans might prefer a blush pink option but yours might be all about the leopard print, in which case, go on Nana.
The Gift Finder also allows you to shop by budget to keep your Christmas shopping purse friendly (we're all about happy purses, in more ways than one). So, without further ado, let us introduce you to our nine giftee personas. We're sure you'll recognise your loved ones* in amongst them.
*and yourself, gifts can totally be for yourself. You can see the Gift Finder as research for your letter to Santa.
The Animal Print Obsessed
First up, the Animal Print Obsessed. Seeing as our "Emily" Personalised Leopard Print Coin Purse was pretty much the first ever Sbri product and has been a bestseller ever since, we had to dedicate a category to the Animal Print Obsessive. You know the one, she's always got a hint of the print in whatever she's wearing, never far from a spot and always carrying it off with absolute class. Her style is the epitome of the phrase "leopard is a neutral" and she's not adverse to a clashing print or two. Make her leopard print dreams come true with personalised leather purses, keyrings and travel accessories that have spots in all the good colours, or mix it up by introducing her to tiger and zebra prints too. Your party animal will thank you.
Top three picks for the Animal Print Obsessed: "Emily" Card + Coin Purse, "Wild Thing" Card Holder, "Savannah" Cross Body Bag
The Colour Lover
We live in full colour at Sbri and firmly believe there's nothing more mood-lifting than wearing a rainbow. If you're a fellow Colour Lover you'll know what we mean. The Colour Lover is a fan of a bold statement, she wants her outfits to pop with accessories to match, brightening up even the greyest days. Our leather options range from pastel mint green and lilac to the hottest fuchsia pink and sunset orange you can imagine. Sbri is designed to add a little extra joy to the everyday essentials, and we reckon the Colour Lover in your life will be jumping for joy at these.
Top three picks for the Colour Lover: "Betty" Card + Coin Purse, Personalised Leather Origami Pouch Bag, "Tutti Frutti" Card Holder
The Student
Being a student is about learning…to multitask. There's a home to run, a degree to study for and inevitably a party to be at. At Sbri we've got gorgeous handcrafted leather gifts to cater to all the above, making #studentlife a little more luxurious. Matching personalised keyrings for the flat share, tech and stationery accessories for organised studying and coin purses made for nights out. The Student (or the Wish-They-Were-Still-A-Student) on your gift shopping list won't know what's hit them.
Top three picks for the Student: Personalised Leather Tassel Keyring, "Gabby" Card + Coin Purse, Personalised Leather Airpod Case
The Globe Trotter
The Globe Trotter is the friend who's always disappearing to somewhere sunnier, sending you WhatsApps of enviable beaches and making you wonder just how they manage to acquire so much annual leave?! Jokes aside, your Globe Trotting pal has probably been missing the adventure they crave over the last few years so a travel-themed Christmas gift is sure to get them excited again. 2022: the holidays start here.
Top three picks for the Globe Trotter: Personalised Leather Glasses Case, Personalised Leather Luggage Tag, Personalised Leather Passport Holder
The Dog Mum
If your pal spends more time on her dog's Instagram than her own and knows the names of all the pups in the park (but not necessarily their owners), it sounds like she's a Dog Mum. The Dog Mum puts Christmas shopping for her pooch at the top of the to-do list but we think she deserves a treat too. We have personalised dog walker accessories to add a little luxury to the morning stroll, and perfectly formed leather cross body bags for when you need to be hands-free. Plus, the beauty of Sbri leathers is that all our products can be made to match, so we can easily fix you up with some dog/owner outfit twinning. Woof woof.
Top three pick for the Dog Mum: Personalised Leather Dog Poop Bag Holder, Personalised Leather Origami Pouch Bag, Personalised Leather Dog Treat Pouch
The Hard to Buy For
Some people are just a bit difficult. There, we said it. They don't mean to be but when it comes to gift shopping for them, you're always in for a challenge. Your Hard to Buy For friend either already has everything they could possibly want, or their style might not be distinctive enough for there to be an obvious choice for them. So let's talk easy options – universally loved colours and prints, and easy-to-style neutrals that you can't go wrong with. We all have to take risks sometimes but when it comes to your Hard to Buy For friend, playing it safe will guarantee a happy giftee. Job done.
Top three picks for the Hard to Buy For: "Penny" Envelope Purse, "Ivy" Card + Coin Purse, Personalised Leather Keyring
The Dreamer
The Dreamer has her feet on the ground and her head in the clouds, always wishing on a star. She's into crystals and candles and knows the zodiac inside out, so you'll want to find a gift she's totally compatible with. Our range of star sign themed gifts will be right up her street with personalised constellations that sparkle, and we reckon our soft pastel leathers will be filling her daydreams too. The future's looking bright for your wonderful Dreamer.
Top three picks for the Dreamer: "Luna" Bookmark, "Pastel Dreamer" Card Holder, "Georgia" Coin Purse
The Busy Bee
You know those friends that just don't stop? That's what we call a Busy Bee. The Busy Bee is always on the go, she's means business and always has somewhere to be. She carries a bag full of everything (sometimes even the kitchen sink) and is prepared for any situation, always dashing from place to place. For the Busy Bee we recommend tools for organisation and accessories to brighten up the most chaotic days – for busy lifestyles with added fun.
Top three picks for the Busy Bee: Personalised Origami Pouch Set, Shell Earphone Cable Tidy, Personalised Leather Apple Watch Strap
The Secret Santa
And finally the Christmas classic, your Secret Santa. If your randomly selected giftee just happens to be that one colleague you've only exchanged small talk with, shopping for your Secret Santa can be a bit of a headache. The good news is, we've got personalised accessories that won't blow the budget and will be envy of all the office, trust us. Yeah, it's meant to be an anonymous game but we reckon you'll want to take the credit for these finds. The only thing better than a secret gift is a personalised secret gift.
Top three picks for the Secret Santa: Personalised Leather Bookmark, Positive Affirmation Personalised Keyring, Leather Coaster with Quote
As well as looking pretty fantastic (if we do say so ourselves), our accessories are also handmade to order in our New Forest studio from sustainably sourced luxury British leather, and every single one is personalised for the recipient. So what are we saying, is that your Christmas shopping sorted? You are welcome.