Brilliant Small Businesses to Support this Christmas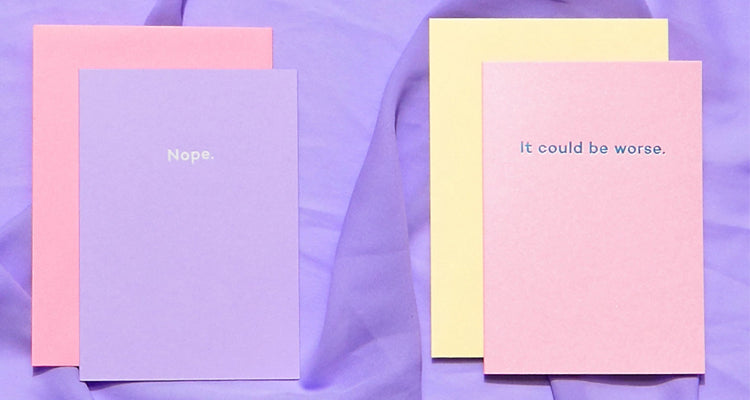 Every day is a small business celebration at Sbri but today, it's official. Saturday 4th December 2021 is Small Business Saturday in the UK, a day dedicated to shouting loudly and proudly about all the fabulous things about small indie businesses. For example, did you know if everyone bought just one (one!) Christmas gift from an independent business this year, we would reallocate a vital £2.7billion into the economy. That's a lot of £££. Plus, shopping small supports the dreams of lovely business owners and means that you find brilliant, unique gifts for your favourite people (and probably yourself too, you're only human).
We'd love for you to shop at Sbri this Small Business Saturday, obvs, but we'd also love to introduce you to some of our small business crushes too. Here's a round up of lovely UK indie brands the Sbri team have shopped with, lusted after and have at the top of their Christmas wish lists. They're all absolute dreamboats.
Piece & Quiet
Piece & Quiet make beautifully designed jigsaw puzzles in collaboration with local artists and they are seriously gorgeous. Can we talk about the packaging, please? They launched in lockdown and their jigsaws are designed to help you relax and unwind. "Mindful Creativity" is something we can definitely get on board with.
Visit Website | Follow on Insta
Mean Mail
Mean Mail are the greetings cards you didn't know you needed. They say it like it is, which is sometimes the best way - pretty pastels but far from cutesy. We love them and we think you will too. Plus, they're sustainably made in the UK. Winner winner.
Visit Website | Follow on Insta
The Happy Blossoms
The Happy Blossoms create the most beautiful dried flower bouquets in colours like you've never seen. Every bunch is prepared by hand in their studio which is local to us in lovely Dorset. There's nothing quite like receiving flowers, and these ones are so much lovelier than even the most fancy supermarket's offering.
Visit Website | Follow on Insta
Delicious Monster Tea
Delicious Monster Tea (possibly the best business name of all) offer personalised t-shirts made from the softest organic cotton, all hand embroidered by the lovely Claire. We particularly love her '...get shit done' tees, and the ones about food. We're always thinking about food.
Visit Website | Follow on Insta
Ajouter
Ajouter curate the most gorgeous homeware, we could scroll through their website for hours. Hand-poured candles, eclectic homeware, Christmas decorations and accessories in beautiful prints and colours. What's not to love? Very very Insta-worthy indeed.
Visit Website | Follow on Insta
Sunday & Soul
We had to mention our friends at Sunday & Soul and their colourful, comfy clothing, inspired by sunny places and happy faces. All of their gorg loungewear is sustainably made and organic, in colours and prints that make us go heart-eyes. Check them out for clothes that can't help but come with a smile.
Visit Website | Follow on Insta
Mood Good Jewellery
Mood Good Jewellery is designed and ethically made with love in London from recycled metals. They design and create pieces to be worn and treasured, with a helping of fun and plenty of smiley faces. We've got Rosie's rings on our wish list, especially her amazing pet portrait pieces. Wear them with pride.