Personalisation Inspiration: message ideas for inside your Sbri Coin Purse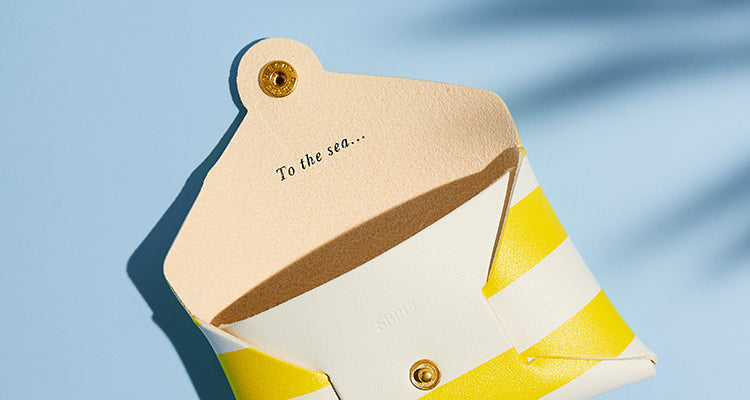 So you want to buy a coin purse from Sbri but you're lost for words for what to write inside? First of all, well done - you've made an excellent choice. Our personalised coin purses are great for many reasons: they're handmade in our UK studio from sustainable British leather, they're the perfect size for your everyday essentials and they're available in all sorts of fun prints and bright colours. Whoever you're buying one for (yourself or a friend), they're already going to love it…and they'll love it even more when they read the secret message you've hidden inside. Second of all - let us help with your message dilemma. We've rounded up some personalisation inspiration (rhyme very much intended) from our team and our favourite customer orders to help you choose what you want to say in your coin purse.
Think about who the purse is for or what the occasion is. What are their interests, what will make them smile, what do they need to read every time they open their purse? Make them laugh, say something to uplift them or share an inside joke that would make sense to literally no one else. All Sbri accessories are designed to add a little extra joy to your everyday so make joy the focus, whatever that means to you.
(Psst! Didn't know about the secret messages? All our coin purses (except the few with animal print spots on the inside) can be personalised with a message of your choice on the inside flap for an extra £5. You can say whatever you like (no judgement here) and we'll print it straight on the leather so it's with you always. Pretty cool, right? And now onto the suggestions…)
For the friend who needs uplifting
Give them a boost, a compliment, an affirmation to help them through the day. Remind them that they're completely amazing. It's nice to say nice things, we all need to hear them.
When it doubt, dance it out

FYI, everybody has a crush on you

You deserve good things

You don't know how lovely you are

You got this babe

Put your positive pants on

Hey good lookin'

Good things are coming

You're a limited edition

You're some kind of wonderful

You do you

You're blooming lovely

You're stronger than you know

You make the world a better place just by being in it
For the friend who loves a party
Sbri coin purses are made for nights out, festivals, holidays, cocktail bars…they're basically the perfect pub purse. Now, a good night doesn't only come from what's in your glass but a night out-appropriate message is definitely something we can drink to.
Money can't buy love but it can buy cocktails

Make mine a double

You're better than gin

If you can read this you're still sober

But first, cocktails

Prosecco O'Clock
For the star gazer
Our "Luna" star sign coin purse is always a winner when you're treating a friend, and we love to go big on the star theme. The "Luna" incorporates midnight blue leather with a starry sky print, personalised initials and a gold foiled zodiac constellation so she's already super personal, and a star-themed message will take it next level. A customer recently chose "You are my shining star" (cute!) and we also love the idea of listing their star sign traits. We've saved them here so you don't have to go searching.
Aquarius - Adventurous. Positive. Patient.

Pisces - Kind. Compassionate. Gentle.

Aries- Positive. Lively. Passionate.

Taurus - Kind. Patient. Generous.

Gemini - Witty. Enthusiastic. Intelligent.

Cancer - Creative. Loyal. Loving.

Leo - Energetic. Helpful. Honest.

Virgo - Reliable. Trusting. Calm.

Libra - Romantic. Charming. Thoughtful.

Scorpio - Focused. Passionate. Brave.

Sagittarius - Energetic. Adventurous. Independent.

Capricorn - Practical. Wise. Ambitious.
In the spirit of spending (or saving)
They're made to carry your cards, coins and notes so a personalised message in keeping with the shopping theme always works a treat. If your pal needs anymore encouragement to spend, a regular reminder to SAVE, or permission to treat themselves once in while, we've got some suggestions for you. 
Treat yourself

Emergency puppy fund

Life is short, buy the dress

Manicure fund
Nana's ice cream money

You don't need anymore [shoes/bags/plants]

For the small joys in life

I want it all

Buy the shoes

Holiday fund

Money doesn't buy happiness but it does buy books
Cause for Celebration
And sometimes just a reminder of why you're being treated or who loves ya is all you need. Perfect for birthday milestones, important questions or a love note from me to you, so you can remember the special days everyday.
Will you be my bridesmaid?

Happy Birthday, lovely lady!

40 and fabulous, darling

Lots of love from...

Together for leather, happy 3rd anniversary!

Safe travels, have the time of your life