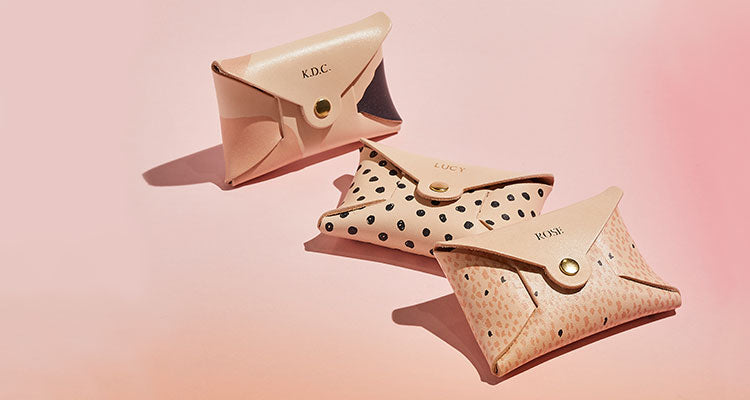 The Pink Ladies, the Spice Girls, the March sisters – everyone has a favourite girl gang that they so want to be a part of (and know exactly which one they would be *ahem * Ginger Spice). But there's a new sisterhood in town, so let us introduce you to the Sbri Club. 
Our coin purses are all named after women we love: women in our team, women we know IRL, women on screen or…questionable women's name puns? Each one has a purse-sonality of her own, so come on – meet the girls, tag yourself (if that's still a thing) and get to know them a little bit better. If only they could talk.
The Emily Purse
Named after our founder, Emily, of course. The original leopard-lover.
Emily was born to be wild, but only until about 9.30pm. She's a city girl at heart for whom leopard print is most definitely a neutral. Loves a night out but likes getting home even more. Shop Emily.
The Ava Purse
Named after an Ava we know and love. She's great.
Ava spends too much time on Pinterest lusting over wall colours and designer bathrooms. She's cooler than ice-cream, online and IRL, and likes mint best in her mojito. Shop Ava.
The Piper Purse
Named Piper, because if orange isn't the new black, we don't know what is.
Piper is always the first one up on the dance floor, with enough energy for all the gang. Ready to drop it all and get on a plane ASAP, she has sunsets and summertime on her mind all year round. Shop Piper.
The Carla Purse
Named after Carla in our team, who's every bit as classy.
Carla's style is the definition of class; she sees no need for colour when black looks good with everything. She wears heels to the supermarket and looks chic in the gym. We don't know her secret. Shop Carla.
The Rosa Purse
Named Rosa after the blush pink rose gardens we intend to grow one day.
Rosa buys fresh flowers from the market on Saturdays and manages to keep them alive all week, amongst her many houseplants. An English Rose, naturally graceful, pretty in pink (and everything else). Shop Rosa.
The Evelyn Purse
Named after Emily's daughter, Evelyn. Our style guru.
Young at heart, sweeter than honey, a friend to depend on. Evelyn is the one to call if you need advice of the heart, words of wisdom, or just a pal to go dog-spotting with on the weekend. Shop Evelyn.
The Luna Purse
Named Luna because she lives amongst the moon and stars.
Luna keeps crystals around the house but doesn't really know what they are for. She guesses strangers' star signs with a surprising level of accuracy and claims to be able to read palms. Shop Luna.
The Dorothy Purse
Long for Dorothy, short for Dot, the perfect name for a polka spot.
Our Dot enjoys nothing more than a coffee shop latte with extra syrup and listening to the conversations going on around her. If people-watching were an Olympic sport she'd win gold. Shop Dorothy.
The Becky Purse
Named after a lovely Becky who used to design for us. We miss Becky.
Becky only wants to be at the beach, whatever the weather. Warm pebbles under bare feet in summer or windswept walks along the seafront in the rain. She keeps shells in her pockets to listen to the waves. Shop Becky.
The Catrin Purse
Named because we wanted to do a cat joke. And Catrin is a Welsh name, like ours.
The Catrin that got the cream. Like her feline namesake, happiest when lying in a sunbeam or roaming the wild. Ready to pounce when there's a sign of something fun around the corner. Shop Catrin.
The Penny Purse
Find a Penny, pick it up. The definition of coins in a name.
Penny is the self-appointed Queen of Vintage. She's got a knack for finding treasures at car boot sales and likes things old school because (much like our leather) she believes things only get better with age. Shop Penny.
The Georgia Purse
Named after Georgia in our team, also usually found in a book.
Georgia has her head in the clouds, always wandering her way through a daydream. She can usually be found with her head first in a book, thinking of being somewhere else entirely. Shop Georgia. 
----------------
Our coin purses are distinctly individual but each made the same: crafted with love, care and a little bit of extra. With room for your essential cards and your coins, of course, and personalised for you. They're the partner-in-crime* you need for a night out, holiday or just to make a trip to the post office a little more fun.
Join our gang, take our purses where the night takes you.
(*please don't commit any actual crimes, we don't want to be held responsible.)