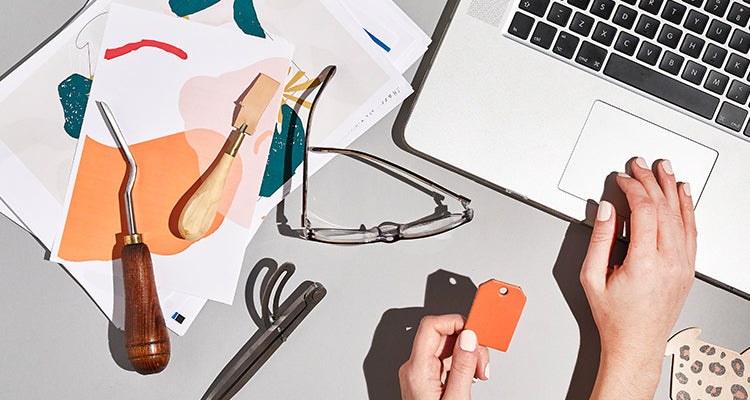 Hi, we're Sbri.
We're a made to order leather accessories brand that's all about celebrating the extra things in life. The little things that make it better, like feeling the warm sun on your face, whipped cream and sprinkles on just about anything, leopard print in your pocket. You might know us as Create Gift Love, only now we look a little bit different.
Sbri is the new home of our personalised leather pieces: purses, keyrings and travel accessories, handmade in our UK workshop from sustainably sourced materials. After a fun-filled few years of living with big sister CGL, our little gang of coin purses felt that 2020 was the right time to up and move out, to make it on their own like the leading lady at the start of your favourite rom-com, and build a space that felt more them. That's here, Sbri.
Sbri is the place you can have cake for breakfast, Prosecco on a Monday. It's the place you'll find lovingly handcrafted pieces made from sustainably sourced, premium quality British leather. It's the place for those little extras that make you feel a bit more you. For a life with more leopard print. More joy. More Sbri.
Got questions? We've got answers.
What's Sbri? Sbri, it's Welsh for "fun" – a combination of two of our founder Emily's favourite things (…being Welsh and having fun). It sounds like "spree", only better.
------------
So what's changed? New name, new website, new products coming soon. But we're still doing what we've always done – creating personalised pieces to elevate your everyday, from sustainably sourced materials full of love and character. Same team, same quality. More fun, more Sbri.
------------
What about Create Gift Love? It's not going anywhere, it's just having a change of focus, going back to its roots, where we started in 2012. Handmade personalised keepsake gifts: a celebration of memories, achievements, special occasions big and small. Visit www.creategiftlove.co.uk for all those good things.
------------
How do I join the fun? Take a look around our new place, sbri.co.uk, we'll get the coffee brewing. Keep an eye on Insta for a flavour of all things Sbri, @sbri_studio. Join our mailing list, the Sbrimail, for updates about offers and new releases.