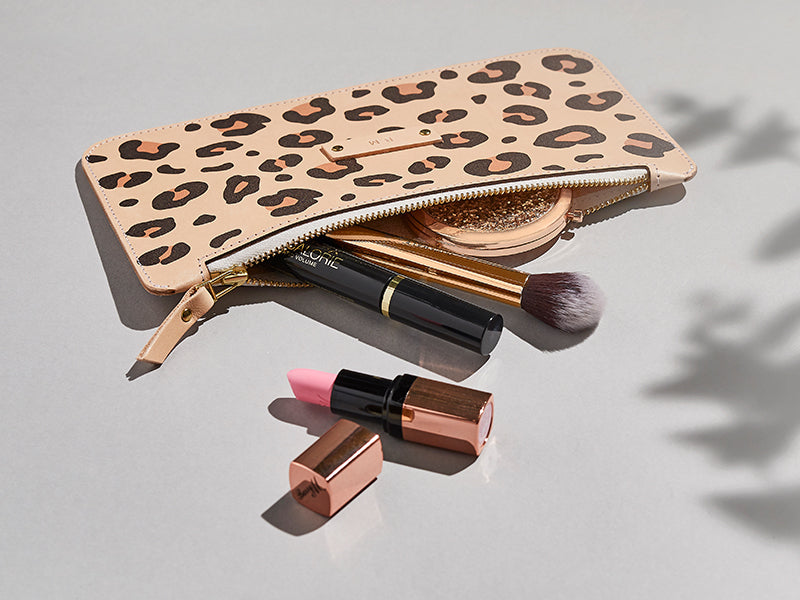 Zipped Pouches
Our zipped pouches are the new home for all your odds and ends: your handbag buddy, travel doc holder, pencil case or makeup bag, depending on the day of the week. Handmade by us, personalised for you. Made to make the misc more me. 
No products in this collection
Each and every one of our personalised leather zipped pouches is handmade from sustainably sourced, premium quality British leather here in our workshop in the New Forest, UK. We cut, print, fold and stitch the leather, secure with a solid brass zip to keeps all your odds and ends safe, then personalise with your name or initials in to put your stamp on it. See, when we say made for you, we mean it.
Our personalised zipped pouches are made to make you every day that little bit better, with a bit more fun, a bit more joy – a pouch to put the me in miscellaneous. That's why we have a selection of colours, prints and patterns to suit every personality: leopard and tropical print for the wild, classic black or vibrant orange for the feeling of summer days.
Our leather pouches are the answer to your gift buying dilemmas, a multi-purpose, fits-all whoever the recipient. A makeup bag present for your best friend's birthday, a pencil case for your office secret santa (if you really like them), a travel document holder to say "thank you" to your bride squad on your hen-do holiday, or a handbag buddy for yourself.
With room to hold all the bits and pieces you need day to day: headphones, lip balm, pills and potions, pens, pencils and random stationery, makeup essentials for on-the-bus makeovers, or travel tickets and your passport outta here!
Our personalised zipped pouches are available with free UK delivery for orders over £30 or next day express delivery if you just can't wait. We also ship internationally with worldwide delivery options, because everyone deserves a bit of Sbri, wherever they are.